[ID by

]





Hello everyone, Juli here!
Welcome to my DeviantART page!
I promise you, if you watch me, you will not be disappointed in my work. Views and favorites are appreciated, (healthy) criticism is allowed.
I am also big on Role Playing, I role play mainly Sonic the hedgehog aka Anthro style role plays with other franchises in the mix on occasion. So if you would like to role play Sonic-verse/Anthro, do not hesitate to ask. It is rare for me to turn down a fellow role player.
Please tell me how to better my work. Thank you all :3.
Juli V.~



- My awesome boyfriend with awesome art skills. Yes ladies, he's MINE! Try to take him and I will jump down your throat and kick b@$$. >8[= He's a great guy and a great friend to have. I love this boy so much, so don't let me catch anyone being mean to him or you gonna have to answer to me. Check out his art, he's amazing and you won't be disappointed in it.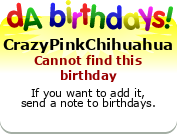 -Stamps-
:thumb331418857: